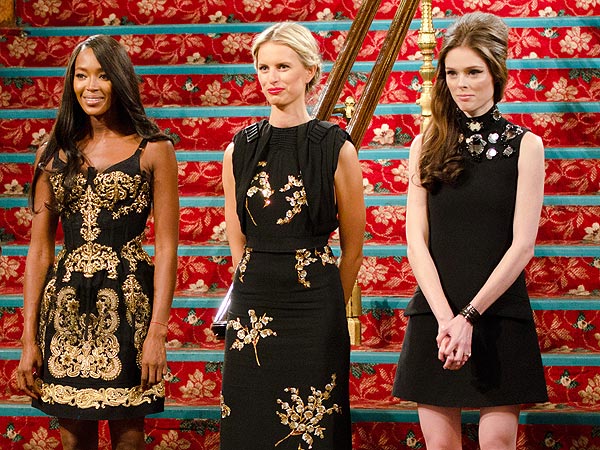 Walter Sassard/Oxygen
They've heard the Top Model comparisons. They know they're facing stiff competition from the 1.2 million other reality shows on TV. But the ladies of The Face — Naomi Campbell, Karolina Kurková and Coco Rocha — are ready for the ratings battle. Hey — they have survived in the fashion world, after all.
"When you want the best, you'll do anything to have the best," Campbell tells PEOPLE of the guest designers and photographers appearing on the show. "I'm very proud of … the level of our show."
Are you on the fence about watching the series? Here are five reasons why we think you should check out the premiere:
1. It follows the addictive format of The Voice. Instead of judging aspiring models and sending them home (though there will still be eliminations), Campbell, Kurková and Rocha are mentoring the women. "I always felt, being in this industry for so long, that it was my responsibility to share," Kurková tells PEOPLE. "Being a successful model isn't just about being pretty and tall — you have to be a businesswoman, know your craft, have a sense of style … we're teaching the ropes of the industry."
And just like on The Voice, The Face contestants will often get to choose their mentor, which makes for dramatic twists. "If there are two mentors who want to have the same girl, it's up to that girl," Rocha explains to PEOPLE. "And that's where the fun begins."
2. There are high stakes — and high-fashion guests. The winner of the series lands a brand ambassadorship with ULTA Beauty, a prize Campbell is quite proud of. "The winner will be seen, she will be known around America," the supermodel explains. "We'll understand why this girl is the winner. She looks like a model [and] has a great sense of distinction — that extra little something we talk to our girls about having to have."
World-renowned photographer Patrick Demarchelier is on board to help in one challenge, as is fashion designer darling Zac Posen — and there are more names to come. "I wanted the show to be authentic [and feature] people in our business," Campbell explains. "I wanted the girls to experience professionals like Zac and Patrick."
3. Obviously, drama will ensue. "It's a competition," Campbell says. "I want my team to win, obviously — I think I have the best girls!"
And outside the competition, we'll get a peek into the contestants' private lives — and possibly some made-for-TV breakdowns. "I felt like I was their mom sometimes," Kurková says of her mentees. "I took on different roles — friend, mentor, coach, whatever they needed me to be. All three of us were hands-on, making sure they had healthy food to eat, getting them everything they needed so they could perform and feel good, and make this a great experience for them."
4. Naomi Campbell, duh. Obviously, it's a pretty big deal to see one of the world's most major supermodels on reality TV — and everyone involved with The Face knows it. "She brings real fashion to this," Rocha says. "And when her name was brought up, I thought, wow, to work alongside her as a mentor, it will be insane! I look up to her, and want to know what she has to teach me."
For her part, Campbell was happy to make the move to TV. "Reality has changed our business, and given [young models] a great springboard," she shares. "I have a lot of respect for Tyra [Banks] and what she's done for America's Next Top Model and young women out there who want to be in fashion."
5. It's already blowing up your Twitter feed. Rocha, who's quite active on Twitter, says that despite the fact the show hasn't started yet, it already has a big social media presence. "It's fun to watch what people are saying. There are people who've said they're Team Coco, or Team Naomi, or love Team Coco but are watching for Team Karolina, too," she shares. "There's never been such support like this for a reality show. It makes me very excited, and so proud of my team."
Catch the series premiere of The Face on Tuesday, Feb. 12 at 9 p.m. ET on Oxygen, Bravo and Style, then regularly at 9 p.m. ET Tuesdays on Oxygen. And be sure to visit PeopleStyleWatch.com the morning after each episode to read Rocha's blog! Tell us: Are you planning to tune in?
–Kate Hogan